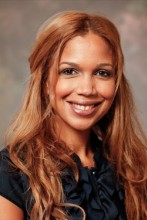 Assistant Professor of Clinical Child Psychology

Director of Family Based Recovery Program, Child Study Center
Expertise:
Culture, immigration, trauma informed care, school mental health, training coordination
Description:
Dr. Cecilia Frometa is a Licensed Clinical Psychologist and Assistant Professor at Yale University School of Medicine.  She is a core faculty member within the Psychology Section at the Child Study Center and provides clinical training in Family Therapy and Cultural Diversity to Psychology and Psychiatry Fellows.  She additionally leads state-wide training for the IICAPS model (Intensive In-Home Child and Adolescent Psychiatric Service) and provides clinical consultation to several IICAPS sites throughout Connecticut.      
Her current research interests include understanding clinical engagement challenges of the underserved and multi-risk populations.  Dr. Frometa focuses her teaching on building skills to improve culturally responsive mental health assessment, treatment and trauma-informed care.