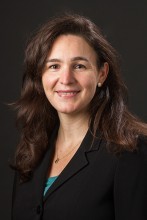 Assistant Professor of Obstetrics, Gynecology, and Reproductive Sciences and Medicine (Endocrinology)
Co-Director, Yale University Reproductive Sciences Biobank
Expertise:
Diabetes, endometrium, transgender medicine, endocrinology, obesity
Description:
I am interested in the effect of obesity and diabetes on the uterus. Women with obesity, polycystic ovarian syndrome (PCOS), or Type 2 diabetes mellitus have a higher risk of irregular bleeding, implantation failure, miscarriage, endometrial hyperplasia, and endometrial carcinoma. My research aims to determine whether this endometrial dysfunction is a consequence of the metabolic abnormalities occurring in women with obesity, PCOS, or diabetes.