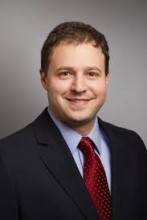 Assistant Professor of Laboratory Medicine and Immunobiology 
Expertise:
Norovirus, Coronavirus, vaccines, tuft cells, viral pathogenesis
Description:
The long-term goal of my laboratory is to understand how viruses interact with the host, microbiome, and environment to cause disease at mucosal barrier surfaces. We employ genome-wide CRISPR screening, organoid culture, single-cell RNA sequencing, and mouse models to accomplish these aims. We focus on two positive sense RNA virus families: noroviruses and coronaviruses. We previously performed a genome-wide CRISPR screen to identify host genes essential for murine norovirus (MNV) infection. This led to our identification of the CD300lf protein as the receptor for MNV, the first receptor for a norovirus of any animal species. This led us to identify a rare population of epithelial cells called tuft cells that express CD300lf and are the physiologic target cell of MNV in the intestines. We are leveraging our expertise with norovirus pathogenesis to studies of COVID-19. Current work in our laboratory is focused developing novel genome-wide CRISPR screening platforms for SARS-CoV-2 and applying single-cell RNA sequencing of infected intestinal and respiratory cultures to discover novel virus-epithelial interactions of human coronaviruses.
Dr. Wilen received his A.B. in Biology and Economics at Washington University in St. Louis, his M.D. and Ph.D. from the University of Pennsylvania. His residency training was in clinical pathology at Barnes-Jewish Hospital in St. Louis, MO. His postdoctoral studies were conducted in the laboratory of Herbert "Skip" Virgin in the Department of Pathology & Immunology at Washington University School of Medicine. Dr. Wilen is currently an Assistant Professor in Laboratory Medicine and Immunobiology.