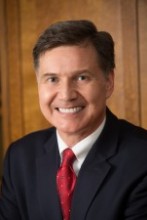 Hillhouse Professor of Environmental Law and Policy
Director of the Center for Environmental Law and Policy
Expertise:
Climate change policy, green chemistry
Description:
Daniel Esty's current research focuses on rethinking environmental policy for the 21st Century and developing metrics for gauging environmental and sustainability performance at the global, national, city, and corporate scales as well as regulatory excellence, climate change and clean energy, and clean energy technology and finance.
Daniel Esty is an expert on the business/regulatory/government issues surrounding climate change and regulatory affairs. Esty formerly served as the Commissioner of the Connecticut Department of Energy and Environmental Protection. Esty has been a regular guest on NBC and CBS News and on the Stephen Colbert show. He has also written numerous books and articles on sustainability and environmental issues and the relationships between environmental protection and corporate strategy, competitiveness, trade, globalization, metrics, governance, and development.