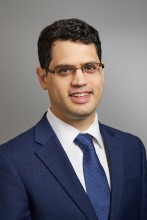 Assistant Professor of Orthopaedics and Rehabilitation
Assistant Professor of Mechanical Engineering and Materials Science
Director of Technology and Innovation, Department of Orthopaedics
Expertise:
Robotics and computer navigation, stem cells, osteonecrosis, avascular necrosis, total joint replacement
Description:
Dr. Daniel Wiznia is an Assistant Professor of Orthopaedic Surgery and an Assistant Professor of Mechanical Engineering & Materials Science who specializes in reconstructive surgery of the hip and knee. He has expertise in total hip replacements, as well as in partial knee replacements and total knee replacement surgeries. He also specializes in revision hip and revision knee replacements. He is also the Department of Orthopaedic's Director of Technology and Innovation. In this role, he leads and coordinates efforts in the use and development of technology and innovation in education, research and clinical care. Examples include robotics and navigation, the use of 3D modeling, virtual reality and artificial intelligence, as well as patient care platforms to coordinate efforts across the department in the use of surgical advances in innovation.