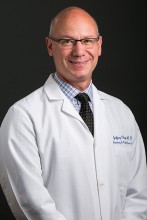 Professor of Medicine (Pulmonary)
Director, Yale Center for Asthma and Airways Disease
Director, Pulmonary Function Laboratory, Yale-New Haven Hospital
Expertise:
Asthma, pulmonary, airway disease, lung
Description:
I developed the Yale Center for Asthma and Airways Disease (YCAAD). This multifaceted program is a multidisciplinary clinical program that focuses on the care of patients with severe as and other complicated airways diseases, a center for translational research in airways disease, and a center where patients can participate in cutting edge industry sponsored research trials. The success of YCAAD has recently been realized with the publications on novel observations on chitinases in patients with asthma recruited from this multidisciplinary center.