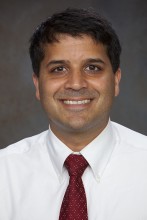 Professor of Therapeutic Radiology

Chief, Pediatrics Central Nervous System Radiotherapy Program, Therapeutic Radiology
Expertise:
Glioma, translational research, bench-to-bedside trials, synthetic lethality, DNA repair
Description:
Dr. Bindra and his group led a team of four major laboratories at Yale, which reported the stunning discovery that IDH1/2-mutant tumors harbor a profound DNA repair defect that renders them exquisitely sensitive to PARP inhibitors. Dr. Bindra is now translating this work directly into patients, in four phase I/II clinical trials. In addition, he is lead co-PI of a 35-site, NCI-sponsored Phase II trial testing the PARP inhibitor, olaparib, in adult IDH1/2-mutant solid tumors.