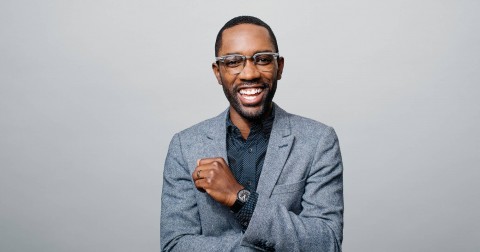 Senior Manager, Talent Development Programs for NYT and Former Co-Chair of Black@NYT
December 2, 2020 - 7:00pm
The Yale Daily News and the Poynter Fellowship in Journalism Present: Journalism's Path Forward with Adrian Hopkins
About Adrian Hopkins
Adrian J. Hopkins believes in people and story.
Born and raised in Richmond, Virginia, Adrian grew up being fascinated by journalism and its ability to connect people to the world around them. Inspired by stories he heard of an ancestor who had edited an African-American newspaper in the 1880s, Adrian got involved with writing, editing and graphic design for publications at an early age and continued into both high school and college. At Yale, Adrian led the founding of Sphere, a monthly print magazine focused on culture and current events both on- and beyond campus. From its boot-strapped beginnings in 2004, Sphere was subscriber- and advertising-supported until publication ended in 2013.
Interning at BusinessWeek Magazine piqued Adrian's curiosity about the global media and creative industries. After finishing Yale, he took a business development role at the VH1 television network and led strategy at a boutique branding agency in New York City. As he honed expertise in research, copywriting, and communications strategy, he helped his teams create successful TV network launches, national public awareness campaigns, and corporate rebranding.
In 2016, Adrian saw a rare opportunity to fuse his longtime love for journalism with his business acumen and joined The New York Times's in-house creative agency, T Brand, to lead creative storytelling projects for advertisers. A year later, as Times leadership began to prioritize career development and inclusion for its journalists and staff in all roles, he pivoted his career to his current role as a senior manager of talent development to launch The Times's first-ever global employee mentorship program. The program has curated mentor-mentee matches for hundreds of employees in 19 countries, bureaus and regions to date.
Thanks to the program's success in improving employee satisfaction, Adrian earned the highest individual employee recognition – a Publisher's Award. From 2017 to 2019, Adrian was also the co-chair of Black@NYT, a 300-member employee resource group. In this role, he collaborated with senior executives to help develop the company's inaugural Diversity Report and led the process for The Times's chief executive to join CEO Action for Diversity & Inclusion.
Adrian has also been a career coach and widely published writer whose career advice and personal narratives have been featured in The Daily Muse, TIME, Newsweek, USA Today, Forbes, Mashable, and as a most recommended story on Medium. Adrian earned a B.A. in History from Yale and an M.A. in Media Studies from The New School. He lives in Brooklyn, New York with his wife and rescue dog​.