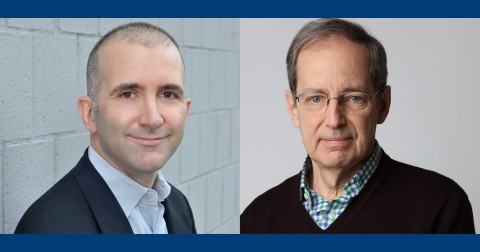 Music Critic, New Yorker; Former New York Times Music Critic
The Changing Landscape of Performing Arts Journalism
Co-sponsored by Yale Journalism Initiative and Department of Music
About the Speakers
Alex Ross has been the music critic at The New Yorker since 1996. He writes about classical music, covering the field from the Metropolitan Opera to the contemporary avant-garde, and has also contributed essays on literature, history, the visual arts, film, and ecology. His first book, "The Rest Is Noise: Listening to the Twentieth Century," a cultural history of music since 1900, won a National Book Critics Circle Award and the Guardian First Book Award and was a finalist for the Pulitzer Prize. His second book, the essay collection "Listen to This," won an ascap-Deems Taylor Award. His latest book is "Wagnerism: Art and Politics in the Shadow of Music," an account of Wagner's vast cultural impact. He is the recipient of a MacArthur Fellowship, a Guggenheim Fellowship, and an Arts and Letters Award from the American Academy of Arts and Letters.
Anthony Tommasini is the former chief classical music critic for The New York Times (2000-2021) and the author of four books. Born in Brooklyn, he grew up in Long Island, graduated with a Bachelor of Arts degree from Yale University in 1970, then earned a Master of Music degree from the Yale School of Music, and a Doctor of Musical Arts Degree from Boston University.
He taught music at Emerson College in Boston and offered non-fiction writing workshops at Wesleyan University and Brandeis University. His interest in the work of the composer and critic Virgil Thomson culminated with his book Virgil Thomson: Composer on the Aisle, published in 1997 by W. W. Norton & Company. Robert Craft, in the New York Review of Books, deemed the biography "indispensable to anyone concerned with American cultural history of the period."
 
As a pianist, he made two recordings on the Northeastern Records label of Thomson's music, titled Portraits and Self-Portraits, and Mostly About Love: Songs and Vocal Works. Both were funded in part through grants he was awarded by the National Endowment for the Arts.
In November 2018 Penguin Press released his latest book, The Indispensable Composers: A Personal Guide. Kirkus described it as "a spirited musical compendium to the best of the best."
 
Prior to joining the Times, he covered classical music and theater for The Boston Globe. He lives in Manhattan with his husband, Dr. Benjamin McCommon, a psychiatrist.