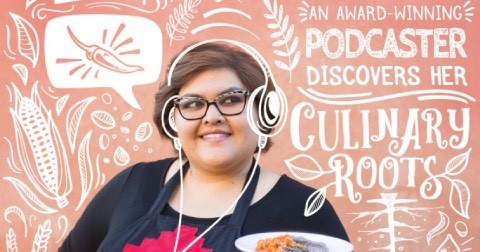 Navajo journalist & host of the Toasted Sister podcast
November 10, 2020 - 7:00pm
Chewing the Fat: Indigenous Foodways & Storytelling
Pre-registration is required for this event. You will receive an email confirmation with the virtual event details after registering.  
Co-sponsored by the Native American Cultural Center (NACC) and Yale Sustainable Food Program (YSFP) 
About The Event 
Please join the Native American Cultural Center (NACC) and Yale Sustainable Food Program (YSFP) for an evening event with Andi Murphy, Navajo journalist and creator of the Toasted Sister podcast. On Tuesday, November 10, the NACC will host Andi for a two-part online event, featuring a cooking demo and a conversation that explores indigenous food sovereignty.
In early November, Andi will share a recipe for event attendees to make at home. 20 select participants will be randomly selected to receive $35 VISA gift cards that support their purchase of ingredients (honor policy: one entry per household). For more details, and to enter the raffle, please sign-up here. 
Regardless of whether you receive a VISA card, all participants are encouraged to share photos of their dishes on Instagram and tag @andimurphy13. Andi will select her favorite dishes to win prizes created by Native-owned businesses. 
On November 10, the evening event will first feature a cooking demo from Andi. A moderated conversation will then follow, featuring Andi's reporting on indigenous foodways. She'll speak on the responsibilities and ethics of telling said stories, and the broader media coverage of indigenous food systems.
About Andi Murphy
Andi Murphy (she/her) (Navajo) is the creator, host and producer of the "Toasted Sister Podcast," a show about Indigenous food. Andi grew up on the Navajo reservation in New Mexico. She has a journalism degree from New Mexico State University and has been working as a journalist since 2011. She's also a photographer, a home cook, and an amateur artist who creates all the art for her podcast. She lives in Albuquerque, New Mexico with her cats, Carrot and Lucifur.
The "Toasted Sister Podcast" is an award-winning show that documents the Native American Food Movement. Andi started the show in 2017 and has since spoken with dozens of Native chefs, farmers and individuals in the food industry who are working towards Indigenous food sovereignty. Conversations on the podcast include topics of sovereignty, racism, sexism, politics and health and personal stories connecting with food, flavor and culture. The podcast plays regularly on the Rising Indigenous Voices Radio (RIVR), KCZY at the Navajo Technical University in Crownpoint, New Mexico, KGLP in Gallup, New Mexico, and KSKQ in Ashland, Oregon.