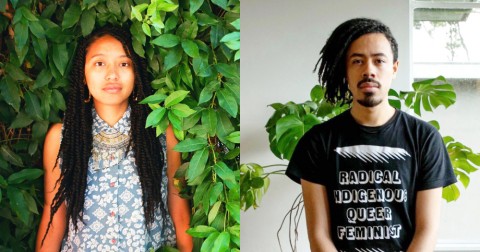 February 24, 2021 - 6:00pm
Gender, Sexuality, Freedom
About Ariana Brown
Ariana Brown is a queer Black Mexican American poet from the Southside of San Antonio, TX. She is a 2014 national collegiate poetry slam champion and the author of Sana Sana, a poetry chapbook from Game Over Books. Ariana's work investigates queer Black personhood in Mexican American spaces, queer Black futures, loneliness, and healing. She holds a B.A. in African Diaspora Studies and Mexican American Studies as well as an M.F.A. in Poetry. In 2018, Ariana recorded a digital poetry EP titled LET US BE ENOUGH (available on Bandcamp). She has been writing, performing, and teaching poetry for ten years. Follow her work online at www.arianabrown.com and on Twitter & Instagram @ArianaThePoet.
About Alan Pelaez Lopez
Alan Pelaez Lopez is a coastal AfroZapotec poet, installation and adornment artist from Oaxaca, México. Much of their writing honors the messiness of grief, love, social movements and reconciliation. They are the author of Intergalactic Travels: poems from a fugitive alien (The Operating System, 2020), a finalist for the 2020 International Latino Book Award, and to love and mourn in the age of displacement (Nomadic Press, 2020). They believe to have left the present long ago and continuously travel between ancestral memories and futures otherwise. Pelaez Lopez's poetry has been nominated for the Pushcart Prize and "Best of the Net," and selected to appear in Best New Poets 2019 and Best American Experimental Writing 2020. Pelaez Lopez's work is published in Poetry magazine, Catapult, the Georgia Review, Puerto Del Sol, Everyday Feminism & elsewhere. They have received fellowships and/or residencies from Submittable, the Museum of the African Diaspora, VONA/Voices, and University of California-Berkeley. They live in Oakland, CA & the internet as @MigrantScribble.