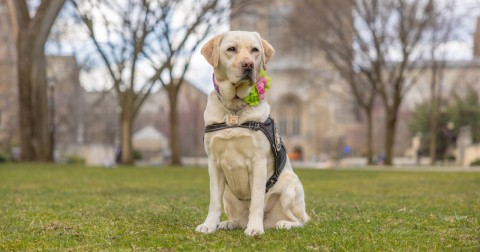 Pulitzer Prize-finalist photographer and writer
October 4, 2023 - 12:00pm
Serving the community while serving time; The story behind Heidi, Yale Public Safety's service dog
Sterling Memorial Library, Lecture Hall
128 Wall St.
Co-sponsored by Yale Public Safety
About Ashley Gilbertson 
Ashley Gilbertson is a Pulitzer Prize-finalist photographer and writer living in New York City who is recognized for his critical eye and unique approach to social issues. Gilbertson is a member of VII Photo, a frequent contributor to major media outlets and a collaborator with the United Nations.
For over twenty years, Gilbertson's work focused on refugees and conflict, an interest that in 2002, led him to Iraq. Post Iraq, Gilbertson shifted his focus to veterans, drawing public attention to post traumatic stress disorder and suicide.
In 2022, Gilbertson was hired by Puppies Behind Bars, an organization that trains incarcerated individuals to raise service dogs for wounded war veterans and first responders, facility dogs for police departments, and explosive-detection canines for law enforcement, to document the two-year process of puppies entering prison, where they live in the cells with their incarcerated "puppy raisers," through the trials and tribulations which come from not only raising a puppy but to working together as a team in an environment normally reserved to thinking only about yourself.