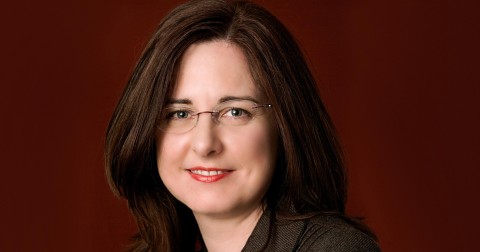 New York Times best-selling author of Top Dog and Nurture Shock
May 1, 2018 -

4:30pm

to

5:30pm
"How to Be a Champion: The Science of Winning and Losing, from Olympic Trials to Final Exams and Beyond"
Evans Hall, Room 4230
165 Whitney Ave.
What does it take to perform under pressure in an exam, a game, or a job interview? A small but critical shift in mindset—from playing to win to playing not to lose—changes everything. Your strategy, psychology, even physiology. In this session, you'll learn how military special operators keep their cool, and which mental strategies Olympians use to come back from defeat. This workshop is about finding the champion in you.
Ashley Merryman
Ashley Merryman's insights change the world's dialogue. Co-author of two New York Times bestselling books—Top Dog: The Science of Winning and Losing and  Nurture Shock: New Thinking about Children—Merryman has had enormous critical and commercial acclaim. Email and social media are filled with demands to read her work: her New York Times essay, "Losing is Good for You," was shared on Facebook 40,000 times within the first 24-hours of publication.
From keynotes to boardrooms, Merryman has appeared at more than 200 venues—global leaders such as: Staples; FOX; Janssen Pharmaceuticals; State Street Global Advisors; FTI; YPO; Aspen Institute; SXSW; PopTech; Wired Business Conference; Red Bull; English Institute of Sport; Forte Foundation; National Head Start Assoc.; Georgetown University; Texas A&M; USC; UCLA; Yale; and the United States Military Academy/West Point.
Top Dog, written with Bronson, was an instant New York Times bestseller, and foreign language editions are underway, as it has revolutionized the world of elite performance. Among the critical raves—it was a "Best Book of the Month" by both Barnes & Noble and Amazon, on many "Best of the Year" lists, and Salary.com said it was the #1 book every entrepreneur must read.
Nurture Shock, has become one of the most influential books about children ever published. On the New York Times bestseller list for more than six months and an Amazon Top Nonfiction 100 book for over a year, it has been translated in 20 languages.
In addition to cover stories and more for Newsweek and New York, Merryman has written for New York Times, Time, Washington Post, the Guardian, ESPN Magazine, and others. Her media appearances include: CNN's Anderson Cooper 360; Fox and Friends; CBS This Morning; Tavis Smiley; @KatieCouric; John Stossel; ESPN's Outside the Lines; HBO's Real Sports with Bryant Gumbel; Red Bull's Visions of Greatness; BBC's World News and Sports Hour; and NPR's On Point. She once delighted "Mr. Wonderful" Kevin O'Leary with an on-air explanation of how science could predict his success; Stephen Colbert devoted an entire segment of The Colbert Report to her take on kids and competition.