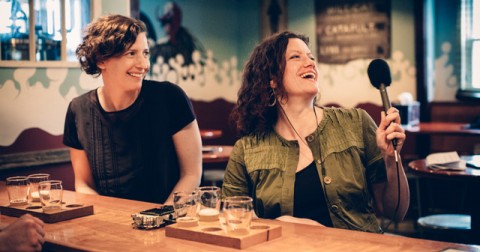 Journalists & Podcast Hosts, Gastropod
October 14, 2019 - 7:00pm
Chewing the Fat: Food for the Ears: Podcasting About the Science and History of Our Meals
Rosenfeld Hall, Room 109
109 Grove St.
Chewing the Fat is the Yale Sustainable Food Program's long-standing speaker series. All events are free and open to the public. This event is hosted in collaboration with the Poynter Fellowship in Journalism, and the Yale Program in the History of Science & Medicine.
About the Speakers
Cynthia Graber has written about food and agriculture news for over 15 years, with pieces in Fast Company, the BBC, Slate, and PRI. Her reporting has won awards from the American Association for the Advancement of Science, the Society of Environmental Journalists, and the International Institute of Physics. 
Nicola Twilley runs the blog Edible Geography, and is a contributing writer for The New Yorker. Her writing also appears in the Atlantic and the New York Times Magazine, and she will be publishing a book on refrigeration.