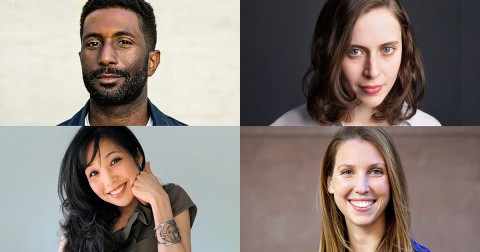 October 23, 2019 - 5:00pm
Branford College, Common Room
74 High St.
Panelists include: 
Wesley Morris, Critic-at-Large, The New York Times
Ava Kofman, Technology Reporter, ProPublica
Yuki Noguch, National Desk Correspondent, NPR 
Sarah Stillman, Staff Writer, The New Yorker 
Co-sponsored by Creative Writing Program, Department of English, and the Paul Block Journalism Program. 
About the Speakers
Wesley Morris, Critic-at-Large, The New York Times
Previous to The Times, Mr. Morris worked at Grantland as a staff writer and the Sportstorialist columnist and cohost of "Do You Like Prince Movies?" He was a film critic at The Boston Globe from 2002 to 2013, and before that at The San Francisco Chronicle and The San Francisco Examiner.
Mr. Morris was awarded the Pulitzer Prize for his criticism at the Boston Globe in 2012 and, while at Grantland, was a National Magazine Award finalist for Columns and Commentary in 2015.
He was born in Philadelphia and received a bachelor's degree from Yale University for film studies.
Some of his spare time is spent making piecrusts, complaining about real estate development and teaching writing to high school students in Bushwick.
Ava Kofman, Technology Reporter, ProPublica
Ava Kofman joined ProPublica in January 2019, after working as a contributing reporter at The Intercept, where she covered algorithms, artificial intelligence and surveillance technology. Her work has also appeared in The New York Times Magazine, Harper's Magazine, The Atlantic, The Guardian, and The New Republic, among other publications
Yuki Noguch, National Desk Correspondent, NPR 
Yuki Noguchi is a correspondent on the Business Desk based out of NPR's headquarters in Washington, DC. Since joining NPR in 2008, she's covered a range of business and economic news, with a special focus on the workplace — anything that affects how and why we work. In recent years she has covered the rise of the contract workforce, the #MeToo movement, the Great Recession, and the subprime housing crisis. In 2011, she covered the earthquake and tsunami in her parents' native Japan. Her coverage of the impact of opioids on workers and their families won a 2019 Gracie Award and received First Place and Best In Show in the radio category from the National Headliner Awards. She also loves featuring offbeat topics, and has eaten insects in service of journalism.
Yuki started her career as a reporter, then an editor, for The Washington Post. She reported on stories mostly about business and technology.
Yuki grew up in St. Louis, inflicts her cooking on her two boys, and has a degree in history from Yale.
Sarah Stillman, Staff Writer, The New Yorker 
Sarah Stillman is a staff writer at The New Yorker. She is also the director of the Global Migration Program at Columbia University's Graduate School of Journalism. She has written on topics ranging from civil forfeiture to debtors' prisons and from Mexico's drug cartels to Bangladesh's garment-factory workers. She won the 2012 National Magazine Award for Public Interest for her reporting from Iraq and Afghanistan on labor abuses and human trafficking on United States military bases, and also received the Michael Kelly Award, the Overseas Press Club's Joe and Laurie Dine Award for international human-rights reporting, and the Hillman Prize for Magazine Journalism. Her reporting on the high-risk use of young people as confidential informants in the war on drugs received a George Polk Award and the Molly National Journalism Prize. In 2019, she won a National Magazine Award for Public Interest for "No Refuge."
Before joining The New Yorker, Stillman wrote about America's wars overseas and the challenges facing soldiers at home for the Washington Post, The Nation, newrepublic.com, Slate, and theatlantic.com. She co-taught a seminar at Yale on the Iraq War, and also ran a creative-writing workshop for four years at the Cheshire Correctional Institution, a maximum-security men's prison in Connecticut. Her work is included in "The Best American Magazine Writing 2012." She was named a MacArthur Fellow in 2016.