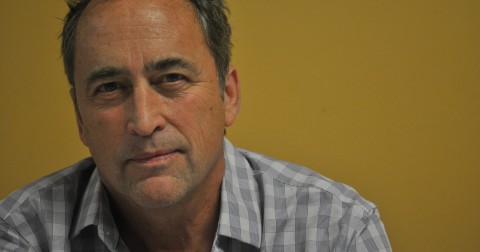 Producer, Director, Writer, and Editor
Screening of "A Reckoning in Boston" followed by Q&A with the director and producer
Please note: this film contains scenes and stories of racial violence and trauma.
Registration is required for this event. Register for the Zoom link here. 
Co-sponsored by Connecticut Mental Health Center & Foundation, Yale Program for Humanities in Medicine, and Yale Public Humanities
About James Rutenbeck
James Rutenbeck's nonfiction films have screened at various forums including Cinema du Reel, Museum of Modern Art, National Gallery, and the Flaherty Film Seminar. James is a two-time recipient of the Alfred I. duPont Columbia Journalism Award for his work as producer of the PBS series Unnatural Causes about health disparities in the U.S. and Class of '27, a film about the lives of young children in rural America. His film Scenes from a Parish aired on the PBS series Independent Lens in 2009. James has been awarded grants from Sundance Documentary Fund, LEF Moving Image Fund, Southern Humanities Media Fund, and the Corporation for Public Broadcasting. His broadcast editing credits include Zoot Suit Riots, Jimmy Carter and Roberto Clemente for the PBS American Experience series. James studied filmmaking with Richard Leacock at the Massachusetts Institute of Technology.
About Kafi Dixon, Producer
A Black Woman, Urban & Rural Farmer, and a Generational New Englander, in 2017 Kafi Dixon founded Boston's first Cooperative for Women and its first Worker / Owner Urban Farm Food Coop. Initially named the Women of Color Co-op, in embracing women of all races, classes and cultures the co-op was renamed Common Good Co-op. In response to the socioeconomic experiences of lower resourced and impoverished communities, and the intimacy of community violence women in Boston experience, as producer of A Reckoning Boston Kafi shares her experiences, hopes, and perspective as she asks us to bear witness to the systemic violence and interrogate resolutions.