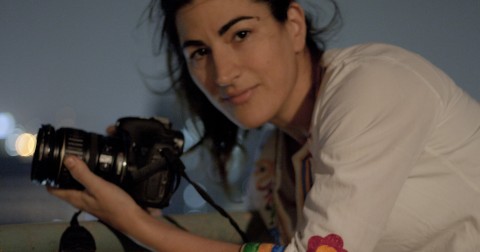 Making Documentaries Today
Pre-registration is required for this event. You will receive an email confirmation with the virtual event details after registering.
Jehane Noujaim and Egyptian film producer Karim Amer will discuss their recent work in documentaries with Zareena Grewal (Ethnicity, Race, and Migration) and Charles Musser (Film and Media Studies.
Co-Sponsored by the Public Humanities Program at Yale; Ethnicity, Race, and Migration; and Film and Media Studies
About Jehane Noujaim
Jehane Noujaim is a verité-style documentary filmmaker who brings intimacy and empathy to whatever topic she pursues. Beginning with her early films, Rafea: Solar Mama (2013), Control Room (2004) and Startup.com (2001), Noujaim's work is social and political, tackling large issues through the individuals experiencing them. Her film The Square (2013) provided a ground-level view of the Egyptian Revolution and garnered an Oscar nomination, three Emmy wins, and the Audience Award at the Sundance Film Festival. Noujaim, along with producer-director Karim Amer explored the Cambridge Analytica hack in The Great Hack (2019), which was hailed by The Guardian as "the most important doc [of the] year" and made the Academy Award and Grierson shortlists. She and Amer are currently producing and directing the HBO series The Vow, which follows members who joined the self-improvement group NXIVM ––whose leader, Keith Raniere, was convicted of sex trafficking and racketeering conspiracy, among other crimes – and reveals the emotional toll of unfolding events.