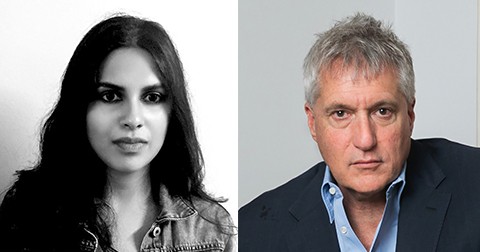 February 12, 2021 - 11:30am
Chevron's "Amazon Chernobyl" Disaster in Ecuador: Lessons from the Frontlines
Zoom Link: https://yale.zoom.us/j/3713192937 
Speakers: 
Khadija Sharife, Senior Editor for Africa, Organized Crime and Corruption Reporting Project (OCCRP)
Steven Donziger, Lawyer, Writer, and Environmental Advocate
Co-sponsored by the Yale Global Justice Program and the Orville H. Schell, Jr. Center for International Human Rights, Yale Law School
About Khadija Sharife
Poynter Fellow Khadija Sharife (LLM) is a writer, investigative journalist and senior Africa editor at the Organised Crime and Corruption Reporting Project. Her focus is illicit financial flows, natural resources, and political economy. She is the former director of Plateforme de Protection des Lanceurs d'Alerte en Afrique and the author of "Tax Us If You Can: Africa."
About Steven Donziger
Steven Donziger is a lawyer, writer, and environmental advocate known for leading a 27-year legal fight waged by Indigenous groups and farmer communities in Ecuador that resulted in a historic $9.5 billion judgment ordering Chevron to remediate its "Chernobyl" disaster in the rainforest. Lauded by BusinessWeek for his "Herculean" tenacity, Steven also has led a variety of international human rights fact-finding and advocacy projects. 
About the Event
The $9.5b pollution judgment won by Amazon communities in Ecuador against Chevron was the result of a substantive legal battle that has attracted the attention of legal scholars, Nobel Laureates, human rights organizations, and climate activists throughout the world. The case was brought by an international team of lawyers and community leaders led by Steven Donziger who faced off against 60 Chevron law firms and more than 2,000 lawyers retained by the company. The legal case raises critically important issues related to global warming, indigenous rights, international judgment enforcement, free speech, private investor arbitration, and attorney ethics. 
In addition, the discussion also will also touch upon the extraordinary legal circumstances faced by Mr. Donziger, the Harvard-educated U.S. lawyer who is under house arrest without trial in Manhattan on a misdemeanor criminal contempt charge that he believes is orchestrated largely by Chevron. The contempt charge has led to Donziger being under under house arrest for 540 days. 
How the legal clash plays out could determine whether Indigenous groups survive or become extinct; whether large fossil fuel companies can be held accountable by our courts; and ultimately, whether grass roots activism needed to address global warming can be respected by some of the most powerful forces in our society. 
Besides Convenor/Chair/Moderator Khadija Sharife and Steven Donziger, there will also be comments by Luis Yanza, Ecuadorian community leader and winner of the Goldman Environmental Prize, and Patricio Salazar, Ecuadorian lawyer for the affected communities in the Amazon.
There will be ample time for critical discussion.