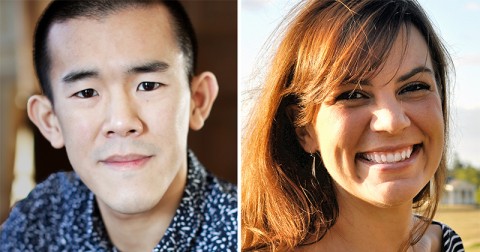 Liz Neeley, Executive Director, The Story Collider; Ed Yong, Science Journalist, The Atlantic Magazine
September 23, 2019 - 4:30pm
Why Storytelling Matters For Science
Yale Science Building, Auditorium
260 Whitney Ave.
Co-sponsored by the Department of Molecular Biophysics and Biochemistry, Yale Microbial Sciences Institute, and The Franke Program in Science and the Humanities.
About Liz Neeley
Liz Neeley is the Executive Director of The Story Collider. She comes to the field of storytelling after a decade of work in ocean conservation and science communication. In 2018, she commissioned and edited the peer-reviewed "Stories from the Frontlines of Conservation" series at PLOS Biology. In 2019 she co-organized the National Academies of Science's Sackler Colloquium on the science of science communication. At Yale, she works with the National Neuroscience Curriculum Initiative to help psychiatry trainees integrate modern neuroscience into their clinical work.
About Ed Yong
Ed Yong is a science journalist who reports for The Atlantic, and is based in Washington DC. His work has featured in National Geographic, the New Yorker, New Scientist, Scientific American, and many more. He has won a variety of awards, including the National Academies Keck Science Communication Award. I CONTAIN MULTITUDES, his first book, was a New York Times bestseller, and a clue on Jeopardy! He has a Chatham Island black robin named after him.